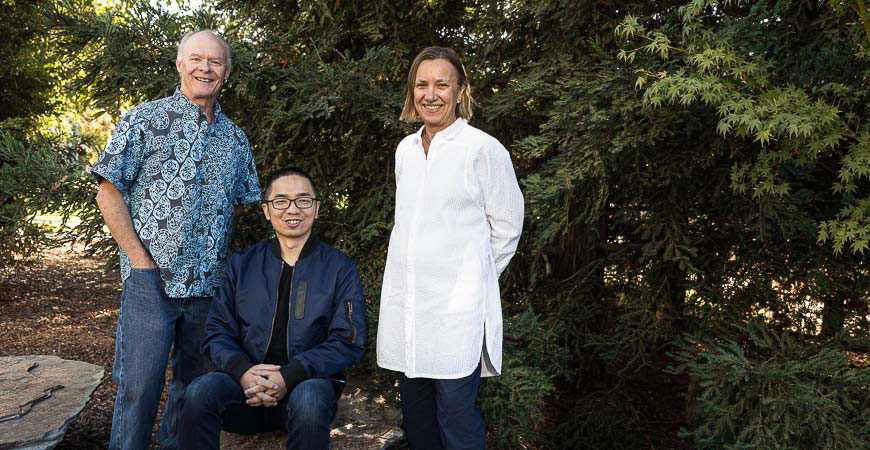 A group of UC Merced researchers are working with the California Air Resources Board (CARB) to find out how much greenhouse gas emissions could be reduced just through land-management strategies.
Professors Stephen Hart and Martha Conklin and postdoctoral researcher Jian Lin are analyzing 1,445 peer-reviewed articles related to natural climate solutions, investigating possibilities for increasing how much carbon dioxide certain lands can sequester. They will synthesize data on carbon stock and flux outcomes of land-management activities that do or can occur on California's natural and working lands.
"Although not an immediate goal of this information-gathering project, we would like ultimately to come up with some recommendations for actions that could be implemented right away," Hart said.
California's natural and working lands and the multitude of benefits they provide are changing and, in many areas, deteriorating or disappearing. These lands — including rangeland, forests, woodlands, wetlands and coastal areas, grasslands, shrubland, farmland, riparian areas and urban green space — cover a large majority of California.
"With their potential to sequester carbon, reduce greenhouse gas (GHG) emissions, and increase the capacity of California to withstand inevitable climate impacts, these lands are also a critical component of California's integrated climate change strategy," the researchers wrote. However, some sources, including CARB and the Natural and Working Lands Greenhouse Gas Inventory, show that some lands are a net GHG source, losing more carbon than they sequester.
"Our main goal is to assess and compare the efficacy of a diverse set of land-management activities on carbon outcomes, and how the efficacy is moderated by different external factors, such as ecozone, elevation and land cover type," Lin said. "Such knowledge is critical to provide guidance for prioritizing future investment in land management and developing land-managing-related models."
Lin leads the project and is responsible for data collecting, processing, analyzing, result interpreting and report writing. Conklin, a hydrologist with the School of Engineering, and Hart, an ecologist with the School of Natural Sciences , serve as co-mentors. The report must be finished by Oct. 31.
This work is part of a larger project to support CARB's integration of the sector of natural and working lands into California's natural climate strategies, along with scenario analysis of statewide ecosystem carbon stocks. The work is also closely related to another project under the Center for Ecosystem Climate Solutions (CECS), supported by California Strategic Growth Council's Climate Change Research Program and featuring several different research universities. Both CARB's and CECS's research should help land managers gain more information about how their decisions and actions affect different ecosystems, Hart said.
The recent Intergovernmental Panel on Climate Change's Sixth Assessment indicates a serious urgency to not only reduce GHG emissions, but to find ways to mitigate as many effects of climate change as possible.
"We will perform a meta-analysis to aggregate findings from different articles that are based on different experiment designs and methodologies, and conducted in different locations and ecosystems," Lin said. "Different articles report results for different carbon pools, for different time scales and in different units. We will normalize these results through the concept of the effect size that is calculated based on rigorous statistical methods."
Lin's postdoctoral work is supported by both CARB and CECS projects, and he's part of the Mountain Hydrology Research Group led by Professor Roger Bales and Conklin, as well as the Sierra Nevada Research Institute.
"I like to investigate the relationship between humans and nature. Both my past and ongoing studies focus on the intersection between forest ecology and social science," Lin said. "My main postdoc research examines the impacts of forest management on carbon outcomes and forest vulnerability."