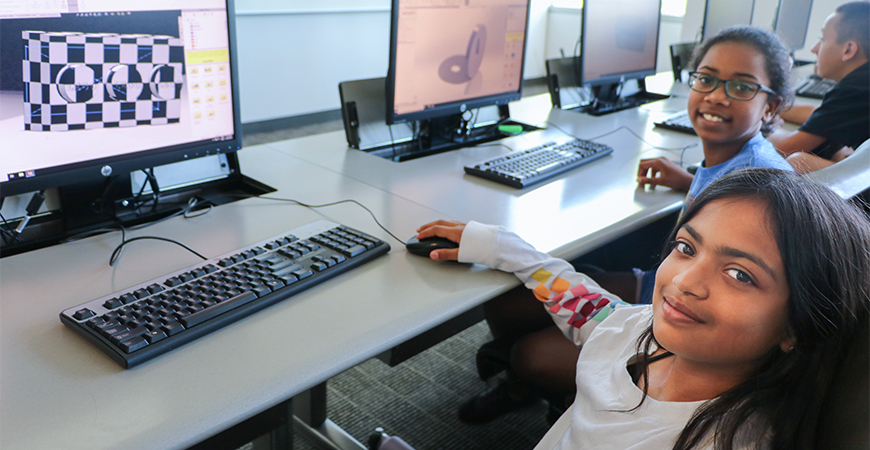 Students and faculty worked with a record number of schoolchildren from Merced, the Bay Area and southern California all the way to Washington, D.C., enriching their learning and increasing their interest in science, technology, engineering and math.
About 1,550 K-12 students, teachers and community members enrolled in the 2020 Virtual Bobcat Summer STEM Academy and a series of other virtual sessions offered through the campus's CalTeach program, as well as the CREST Center for Cellular and Biomolecular Machines (CCBM).
"It was a challenge to switch our usual summer K-12 outreach programs to a virtual format, but we adjusted and created a plan for these academies to be virtual and open to students, teachers and community members around California and in other states," said CalTeach Special Programs Manager Hijab Chaudhry, who managed the program along with CalTeach Student Services Advisor Jessica Teran Salazar.
"We set out to create virtual trainings for our undergraduate students who were leading these courses, and we saw professional-development growth in our undergrads and the K-12 students throughout this seven-week academy," Teran Salazar said.
The younger students surprised the undergraduates who led the courses.
"We had no idea what to expect, but they were very online-literate," said Amelia Wood, who worked with third through fifth graders during the week-long Bobcats in Training courses, which are as much about educating future teachers as they are about learning opportunities for younger students. "We were giving them high school and college concepts, and they were grasping them."
Fellow Bobcats in Training instructor Erika Salazar Vidana, who taught kindergarteners through second graders, said the children in her class were dedicated and engaged.
"I had a 4-year-old who did her homework before every class," Vidana said.
The summer sessions gave work-at-home parents an educational way to keep their children busy for a couple of hours each day for at least a week at a time. The trained undergrads and graduate students led the sessions they had proposed, in such topics as "How Scientists Think and Speak," "Plant Structures and Functions" and basic engineering concepts.
"I think there was a huge need. We responded to a call from parents for more summer-enrichment opportunities," said Chelsea Arnold, director of UC Merced's branch of CalTeach. "We had planned all these sessions to be in-person, but we had to pivot, and they ended up working really well."
Apparently, the younger students agreed.
"It was a great class. My favorite part of the week were the hands-on activities about biodiversity," said Cordelia Devrick, a middle-school student from Merced who enrolled in the "Back to the Future" workshop, led by graduate students from Professor Jessica Blois' paleoecology lab.
That course was part of the " Middle & High School Virtual Academy " sessions that offered several interesting options to choose from, including a "CSI"-style course on forensics and investigative techniques; coding with NetLogo; virtual robotics; and shark evolution and adaptation.
Kimberly Gonzalez, who taught the "CSI" course in partnership with the UC Merced Police Department, said her middle-school-age students were also remarkably attentive and focused on learning.
"We broke into small groups, and I'd go from group to group, and they were discussing evidence and clues — right on task," Gonzales said.
Faculty members and graduate students also offered webinars for anyone who wanted to learn more about a variety of STEM-related topics, such as bioarchaeology, wildfire science, safe lab management, how the brain perceives sound, sea star mortality and evolution, nanotechnology and the atomic force microscope, modeling biological systems, natural selection in humans and several others.
Just because summer is over doesn't mean the learning opportunities end. The CCBM's summer outreach programs , which were open to K-12 students, teachers and anyone else who wanted to sign up, featured sessions on physics, materials science, biology, computation, research ethics, preparing for college and careers and more. The center continues throughout the fall and spring with the Science for the Humanities series, with a variety of guest speakers from other prestigious universities.
"For the faculty who have outreach as part of their grants, there are a variety of opportunities to demonstrate that remote learning doesn't have to be 'sterile,'" Arnold said. "We can absolutely make these sessions exciting and engaging. This summer was such a success that even when we can bring in-person academies back to campus, we will continue to offer virtual academies as well."