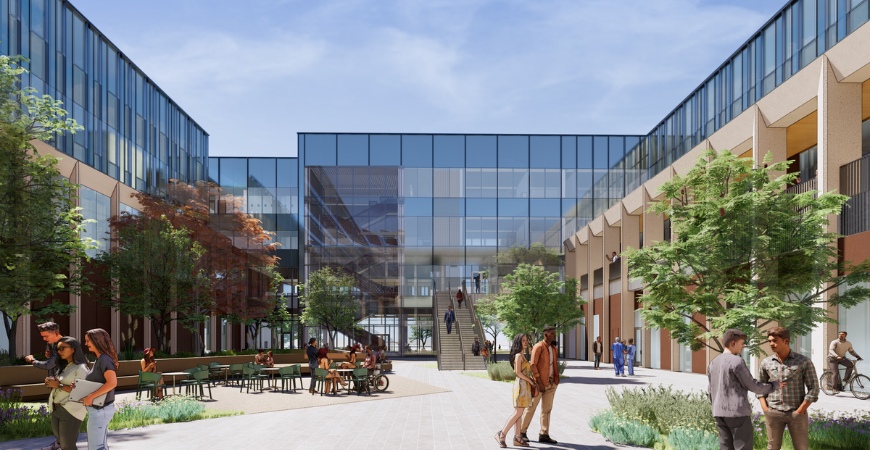 At their Nov. 15 meeting, the Regents of the University of California gave final approval for the construction of a new medical education building at UC Merced. The vote approved the final design, California Environmental Quality Act (CEQA) findings and the full budget and financing.
The four-story building, designed by the firm ZGF, will feature 203,500 square feet of instructional, academic office, research and community-facing space and common areas. The project has a price tag of $300 million, funded by a combination of state General Fund appropriations, the campus budget and donor gifts.
"We are very pleased by the Regents' show of support for medical education at UC Merced," said UC Merced Chancellor Juan Sánchez Muñoz. "The lack of quality healthcare options in the region is well-documented, and this new building will enable UC Merced to train physicians uniquely qualified to address the Valley's health needs."
The new facility will be home to UC Merced's medical education pathway, which was developed in partnership with UCSF and UCSF Fresno. The first cohort of students began classes this fall. It will also house:
● The departments of Psychological Sciences and Public Health
● The Health Sciences Research Institute
● Allied healthcare-related programs (developed in partnership with community colleges)
● A range of medical education and general assignment learning environments
● Specialty learning spaces for medical education, general assignment classrooms, and class laboratories to support several new and existing academic programs
This project will comply with the University of California Sustainable Practices Policy, which establishes goals for green building, clean energy, transportation, climate protection, facilities operations, zero waste, procurement, food service and water systems. Supporting UC Merced's carbon neutrality status, the building will be run entirely on clean electricity, without the use of natural gas.
Construction is anticipated to begin in spring 2024 with completion slated for fall 2026. Current growth projections show the facility serving approximately 2,220 undergraduates by 2030.