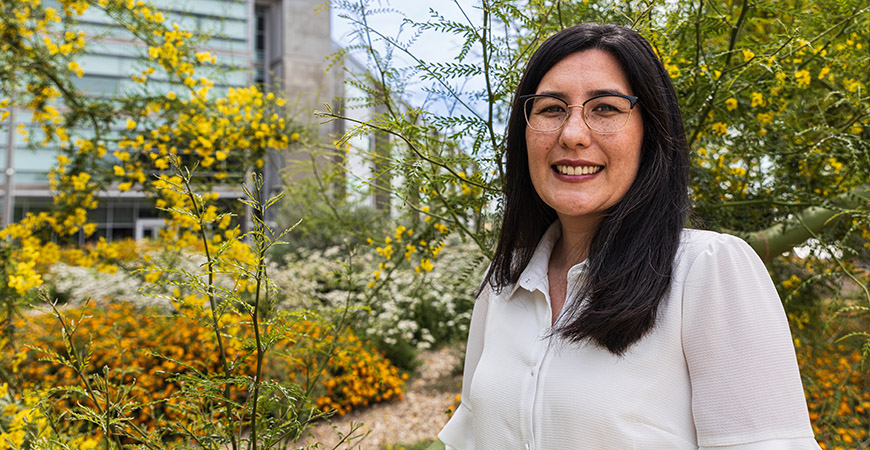 Christi Turner will represent UC Merced and join Nobel laureates from around the world at the 2023 Lindau Nobel Laureate Meeting, June 25-30 in Germany.
Turner, a Quantitative and Systems Biology Ph.D. student from Orange County, was nominated and selected as part of the fourth class of the University of California President's Lindau Nobel Laureate Meetings Fellows. The meeting, a one-of-a-kind scholarly summit now in its 72nd year, will focus on physiology and medicine.
"These fellows are among the best and brightest of the University's young ambassadors to the scientific world," said UC President Michael V. Drake, M.D. "We are proud of their accomplishments and look forward to supporting them as they grow in their careers. Participating in the Lindau meetings will set them up for future success."
Turner's research in Professor Katrina Hoyer's lab focuses on the intersection between dysfunctional and functional states of T cells in autoimmune disease and immune-mediated adverse events of immunotherapies. This research expands the understanding of the immune system's ability to resist cancer therapeutics and may lead to beneficial advancements in immunotherapy treatment options for patients.
"Being selected as a Lindau Nobel Laureate Fellow is a great honor. It is an opportunity to be able to learn from some of the best minds within the science community and gain an in-depth understanding of what it is like to make a world-renowned discovery," Turner said. "I believe this experience will enable an expansion of my imagination into what I may be able to achieve as a scientist."
Turner earned a master's degree in biomedical science at Western University of Health Sciences and a bachelor's degree in biology at Oral Roberts University.
The Lindau Fellows program is funded by UC Investments and UC's National Laboratories to allow a select group of UC doctoral and postdoctoral students to attend the annual event.