By Lorena Anderson, UC Merced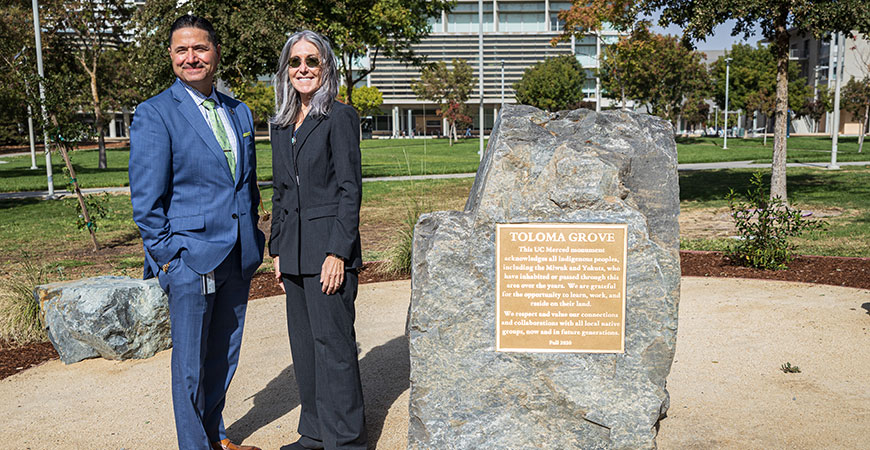 In the early days of building UC Merced, founding faculty member Teenie Matlock took on lots of tasks that were well outside her job description. Over the years, she expanded her service to the campus and UC in many ways, from designing and developing courses and majors to co-authoring foundational policies to spearheading new programs to serving in leadership roles.
Matlock has been a recognized campus cornerstone — founding faculty member; lead architect and founding chair of what has become an internationally known Department of Cognitive and Information Sciences; the first McClatchy Chair in Communications; recipient of awards for teaching and mentoring; and Vice Provost for Academic Personnel.
"The thing that has most impressed me, again and again over all these years, is her ability to get things done. She has some kind of magical mix of abilities and characteristics that allows her to translate what she envisions in her mind into concrete reality in the world," cognitive science Professor Jeffrey Yoshimi said.
After almost 20 years at UC Merced, many awards, honors, grants, collaborations and lives touched, Matlock is now a professor emerita.
Her UC Journey
Matlock joined UC Merced in 2004 as one of the first 15 faculty members.
It was a homecoming for her. She grew up in nearby Mariposa, where her deep family roots reach back generations, including native ancestry on both her mother's and father's sides. Her family history also includes miners who came to the region during the Gold Rush.
As a first-generation college student, Matlock started out at Fresno City College, and went on to earn a bachelor's and master's degrees at CSU Fresno. Her doctoral training included several years of theoretical linguistics studies at UC San Diego and cognitive psychology studies at UC Santa Cruz. After completing her doctoral work, she did postdoctoral research at Stanford University.
She was working as a researcher at Stanford when she heard that UC Merced would be hiring its first set of faculty. Although initially wary – given the growing pains that would arise on a brand-new campus and that working at Stanford was her dream job – she applied after family and friends in Mariposa and mentors at Stanford and Berkeley convinced her.
"With a good deal of encouragement, I realized it would be a unique experience, one not to pass up. It would mean being integrally involved in creating a brand-new UC near my hometown, and the opportunity to build a world-class cognitive science department from the ground up," she said.
Like other UC Merced pioneers, Matlock decided the risks were worth it and before she knew it, she was fully immersed in campus planning in workspaces housed at the former Castle Air Force Base. She served on multiple committees to help develop policies, recruit faculty and students, create curricula and laid the foundation for what would become academic departments. At the same time, she managed all her ordinary faculty duties, including maintaining a robust research program by publishing articles and seeking extramural funding.
"Many of us were sleeping only three or four hours a night and working every Saturday and Sunday to help ensure the campus could successfully be launched in Fall 2005. Those of us who stayed on and thrived were fully invested in institution building," she said, smiling. "We knew the effort would lead to better opportunities for local students and their families and benefit the University of California."
"The thing that has most impressed me, again and again over all these years, is her ability to get things done. She has some kind of magical mix of abilities and characteristics that allows her to translate what she envisions in her mind into concrete reality in the world."
Making her Mark
From the start, Matlock, a leading figure in cognitive linguistics and cognitive science, worked hard to earn the respect of her fellow faculty members.
"When Teenie joined us in 2004, it was immediately apparent that she would contribute hugely to multidisciplinary research and discourse," said founding Professor Christopher Viney. "There cannot be many other instances in recent history where an internationally recognized program, in this case UC Merced's cognitive science program, was launched with the hire of a single assistant professor."
Yoshimi, who was hired shortly after Matlock and worked closely with her to develop the cognitive science program for undergraduate and graduate students, said his colleague had a vision for the department early on.
Just after he was hired, but before he or Matlock moved to the Valley, they met near UC San Diego.
"In many ways, Merced was carrying on a kind of West Coast/UC San Diego tradition," Yoshimi said. "UCSD had one of very few dedicated cogsci programs in the country — most places kind of cobble them together from other programs — and the researchers there were doing the kind of interdisciplinary work with language, embodied cognition, neuroscience, computer modeling and philosophy that we were both interested in developing at UC Merced, where we would have the advantage of a fresh canvas and minimal institutional inertia."
Viney and Yoshimi were impressed with the breadth of Matlock's interdisciplinary research program.
"She was doing fresh, innovative research, and it was deeply interdisciplinary," Yoshimi said. "She was looking at language and cognition not as abstract computational processes, but as being intertwined with our embodied existence. She was doing all kinds of cool stuff related to language and cognition."
Matlock has published more than 100 scientific journal articles and given hundreds of presentations and guest lectures. She has been a visiting scholar at Stanford and UC Berkeley and has many academic affiliations. For instance, with the International Computer Science Institute at Berkeley, the Sierra Nevada Research Institute at UC Merced and the UC-wide Center for Information Technology Research in the Interest of Society (CITRIS).
Her research covers topics ranging from the comprehension of spatial language and the use of gestures in everyday talk to how metaphorical language can influence reasoning about politics, climate change and diseases such as cancer. She also collaborated on research projects with computer scientists, including a CITRIS-funded project on optimizing verbal instructions in digital companions for the blind.
She founded the Mind, Technology and Society Lecture Series (MTS), the campus's first and longest-running lecture series and co-founded Cognitive Science for the Common Good, a collective effort that focuses on how cognitive science can help address societal challenges. She also recently co-founded Crosstalk, a new interdisciplinary talk series dedicated to communication.
But her work at UC Merced extends far beyond research she has spearheaded or collaborated on.
As the former vice chair and as an active member of the nearby American Indian Council of Mariposa County, she has participated in various initiatives to help strengthen connections between local native groups and the University. For instance, she co-created the annual Toloma 5K Run , held during Native American Heritage month, and designed Toloma Grove, a campus reflection space that honors local indigenous peoples.
Matlock also engaged heavily in service to her profession, including by serving as a standing member of a National Institutes of Health study section, serving as associate editor for Cognitive Linguistics and serving on the Cognitive Science Society Governing Board.
Among the many awards and accolades — including the Athena Award for Academic Leadership from CITRIS's Women in Tech Initiative, and the Senate Faculty Distinguished Undergraduate Teaching Award — she is most proud of receiving the Senate Award for Excellence in Faculty Mentorship.
She has always enjoyed advising faculty, postdocs and students on how to achieve their goals. She is very proud of her former Ph.D. students, for instance, Justin Matthews, a professor at CSU Monterey Bay, and Bodo Winter, a professor at University of Birmingham, UK.
"They were both sharp, resourceful, creative individuals who are now having positive impacts on their own students and on the field," she said. "It's very rewarding."
Cognitive science Professor Tyler Marghetis said she is a generous and caring mentor.
"From the first time we spoke, I felt that she cared about my scientific ideas, studies, results — but also about my dreams, goals, hopes and worries," Marghetis said. "Teenie ends almost every conversation with me with, 'OK, this has been great. But is there anything I can do to help you? Is there anything you're struggling with that we can talk through together?' And she means it."
Cognitive science Professor Rachel Ryskin praised Matlock's empathy.
"Teenie is a great mentor because she is really good at putting herself in the shoes of her mentees and anticipating what concerns they will have even before they have them," she said.
Matlock put her mentoring skills to the test in 2018, when she was appointed interim vice provost for Academic Personnel. In this leadership role, she oversaw all academic personnel processes, policies and procedures, and collaborated with other UC leaders. She also provided support and guidance to faculty and other academic appointees. Despite challenges during the pandemic, she said she really enjoyed the job, including working with staff in the Academic Personnel Office, spearheading new programs for onboarding recently hired faculty and supporting new department chairs.
Looking Back and Going Forward
Thinking about the early days, Viney recalled Matlock delivering a lecture to one of the first Core One classes.
"She engaged large audiences of our freshman students on matters relating to language, cognition and communication, covering an astonishingly wide range of topics," he said. "It was a mind-expanding and memorable experience for me, too, and opened the door to how I now think about and use metaphors in communicating science.
"We should all hope that Teenie's retirement will not stop her from continuing to spread her insights about language and communication. Everyone, especially engineers and scientists, can benefit."
Retirement won't slow her down much. Immediate plans include a trip this summer to Australia, where she will receive a prestigious international award and medal as this year's recipient of the Jeffrey L. Elman Prize for Scientific Achievement and Community Building, presented at the 45th Annual Meeting of the Cognitive Science Society.
An avid trumpet player, Matlock also plans to continue playing in jazz and classical bands in the region.
And Matlock has already started writing a book on the complexity of language understanding.
"In our field, journal articles are the norm," she said. "I have always wanted to write a book."