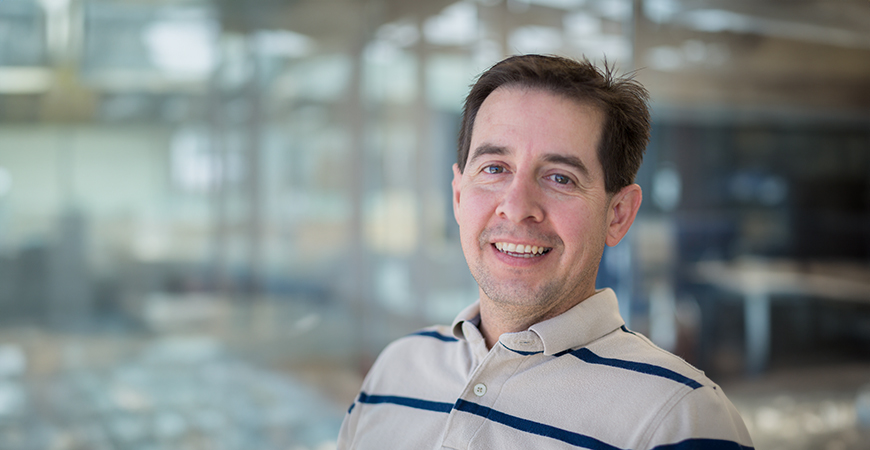 Physiology Professor Rudy M.Ortiz has been named a Fellow in this year's cohort of the Hispanic Association of Colleges and Universities' Leadership Academy (La Academia de Liderazgo).
The program is designed to increase diverse representation in executive and senior-level positions in higher education.
"I was pleased to nominate Professor Ortiz for this important Fellowship. His research and teaching have brought great credit to UC Merced and to himself, and the Leadership Academy will prepare him to share his knowledge and his story at an even higher level," said UC Merced Chancellor Juan Sánchez Muñoz.
"Professor Ortiz is a productive research scientist and experienced leader. I am deeply grateful for his service as the inaugural chair for the Department of Molecular and Cell Biology and, more recently, as the campus representative to President Drake's Chicanx/Latinx Advisory Committee," said Betsy Dumont, dean of the School of Natural Sciences. She nominated Ortiz through UC Merced Chancellor Juan Sánchez Muñoz.
"His enthusiasm for sharing his own lived experiences and learning from the perspectives of others is perfectly aligned to the goals and spirit of the HACU La Academia de Liderazgo program," Dumont said.
The Hispanic Association of Colleges and Universities (HACU) represents more than 500 colleges and universities in the U.S., Latin America and Spain, as well as school districts throughout the U.S. HACU is the only national association representing existing and emerging Hispanic-serving institutions (HSIs).
"Our leadership academy fellows have already proven the value of the Association's efforts to increase diverse representation within the upper echelons of higher education by assuming top positions at colleges and universities across the nation," said HACU President and CEO Antonio R. Flores. "Students benefit from having leaders from a wide range of backgrounds, and this fifth and largest cohort to date brings a range of professional and life experience that can meet the challenges of our multicultural institutions of higher education."
Fellows participate in an array of leadership development activities preparing them for leadership roles in the full spectrum of institutions of higher learning, with an emphasis on HSIs and emerging HSIs.
The one-year fellowship program includes webinars and three seminars. The first seminar will be held in October in conjunction with HACU's 37th Annual Conference in Chicago. The second seminar will be held in Washington, D.C., in April 2024, at HACU's National Capitol Forum. The third seminar will take place in Salamanca, Spain, in the summer of 2024, at HACU's International Conference.
The Leadership Academy faculty consists of current and former presidents, chancellors and senior administrators and brings over 100 years of combined experience in serving various sectors of higher education, including private/public universities, community colleges and faith-based institutions. Mentorship with a university president or senior-level administrator is a key component, as well as the development of a special project designed to have an impact at the fellow's current institution.
"It's an honor to be nominated and selected for HACU's Leadership Academy and a great privilege to represent UC Merced. I am grateful to both Chancellor Muñoz and Dean Dumont for their support," Ortiz said. "This is an exciting opportunity to meet with like-minded Hispanic leaders across academia and to learn from the other members of my cohort and to share in their experiences.
"There is no doubt this experience will allow me to refine my professional and career-development skills and strengthen my foundational potential to pursue additional leadership opportunities as they arise."
Ortiz, whose endocrine research specifically examines obesity, diabetes and hypertension, joined the faculty at UC Merced in 2004. He has mentored dozens of postdoctoral researchers, graduate students and undergraduate students, including many who have had research experience in the U.S. and abroad because of Ortiz. He has been named a fellow at the New Leadership Academy at University of Michigan, a Japanese Society for the Promotion of Science fellow at Kagawa Medical University in Takamatsu, Kagawa, Japan, and a USDA-HSI E (Kika) de la Garza fellow in Washington, D.C.
He is a member of the American Physiological Society, the American Heart Association, the California Society of Physiologists, the Endocrine Society, the Society for Experimental Biology and Medicine and a life member of the Society for the Advancement of Chicanos & Native Americans in Science.
Ortiz's class is the largest cohort chosen for the 5-year-old program. The 49 other fellows come from community colleges, state colleges and universities across the country.
More information about the HACU Leadership Academy/La Academia de Liderazgo is available on the website.