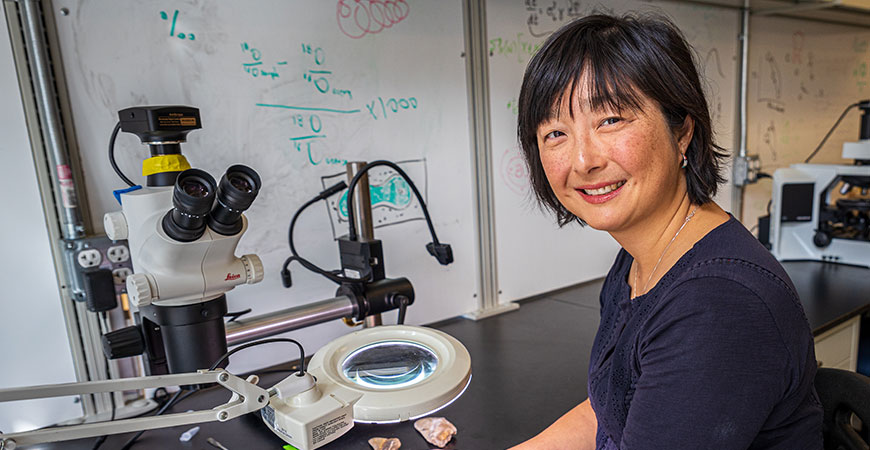 Professor Sora Kim has received a CAREER award for her project that bridges concepts between modern and ancient marine ecosystems by integrating geochemical and modeling approaches with paleobiology.
Kim is the 34th researcher from UC Merced to earn a CAREER award from the National Science Foundation (NSF).
CAREER awards are among the NSF's most prestigious awards. They are given through the Faculty Early Career Development Program to recognize untenured faculty members as teacher-scholars. Early-career faculty members are selected based on three factors: the strength of their research proposals; their potential to serve as academic role models in research and education; and their leadership in their fields and organizations.
Kim will receive $995,715 over the next five years for the project "Shark Survivor! Interdisciplinary Approaches to Modern and Paleo Ecology in Research and Education" from the NSF's Division of Earth Sciences.
Kim and her lab focus on paleoecology, studying the stable isotopes in fossil shark teeth to understand ecosystem shifts and shark dynamics related to climate change.
The cornerstone of the Shark Survivor project involves looking at fossil shark teeth from the Eocene, 56 to 34 million years ago.
"This is a time when we had higher temperatures likely due to higher levels of carbon dioxide, which is very similar to future scenarios given our current trajectories of climate change," Kim said. "During the Eocene, Sand Tiger sharks were found all the way from the Arctic to the Antarctic. I want to look at the fossil record from the Arctic, the Antarctic and the Gulf of Mexico and see how Sand Tiger sharks' ecology differed between localities."
They might differ because some sites could be nursery sites where young sharks tend to stay, but they might also differ because of environmental and climatic factors.
She'll look at other species of sharks, too, and compare data from ancient and modern sharks to characterize diet, niche, demography, etc., which address ecological scales on organismal, population, community and ecosystem level as the climate continues to warm.
Kim will use new geochemical tools developed during another NSF-funded project she has been working on, looking at fossil megalodon teeth to discover what the sharks ate, where they lived and what made them go extinct.
Kim has been with UC Merced since 2018. She is also the faculty director of the Stable Isotope Ecosystem Lab of UC Merced (SIELO).
"Sora is a great asset to our department, school and broader campus. Not only is she a distinguished early career scientist and engaging teacher; she is also a phenomenal leader, innovator and mentor in equity, diversity and inclusion," said Professor Carolin Frank, Department of Life and Environmental Sciences chair. "As department chair, I value her focus on people and community building efforts, and that I always can rely on her for great ideas. Sora is a real gem."
Each CAREER award proposal includes an educational outreach component. Kim's has three segments.
In one, six UC Merced undergraduates who are interested in science, technology, engineering and math (STEM) careers will go to Miami to attend a one-week workshop, "Introduction to Shark Skills," at Field School. They will be on a boat collecting samples and getting field experience related to fishing methods, shark handling, data collection and science communication. The workshop is part of their Summer Research Institute through the Undergraduate Research Opportunities Center (UROC), which provides resources and professional development for students from historically marginalized groups who want to pursue graduate school.
In another, she will develop a cross-disciplinary summer workshop for Merced middle schoolers to learn about shark ecology and evolution, oceanography, climate change and mass extinction events. She and her graduate students developed a similar virtual program for CalTeach's Bobcat Summer STEM Academy in 2020, helping the younger students understand how to compare and contrast shark tooth morphologies and hypothesize the correlation with diet; apply chemistry concepts to ocean processes and patterns; recognize the longevity of geologic time and identify "traits" of past mass extinction events; and defend reasons a shark species will survive a simulated mass extinction event as they play a game called "Shark Survivor."
The third is the support of two graduate students.
Belonging, accessibility, justice, equity, diversity and inclusivity are tenets of Kim's research group and figure into the educational component of this project, too.
Kim said she was especially grateful for the many people who wrote letters of support for her in applying for the CAREER grant.
"The number of letters of support I had was very extensive," she said. "Even though they are not recognized as formal collaborators, this project is very much a collaborative effort and builds on the expertise of many other people. This project aims to explore ecological concepts in ancient shark communities and bridges different chemical and modeling approaches."