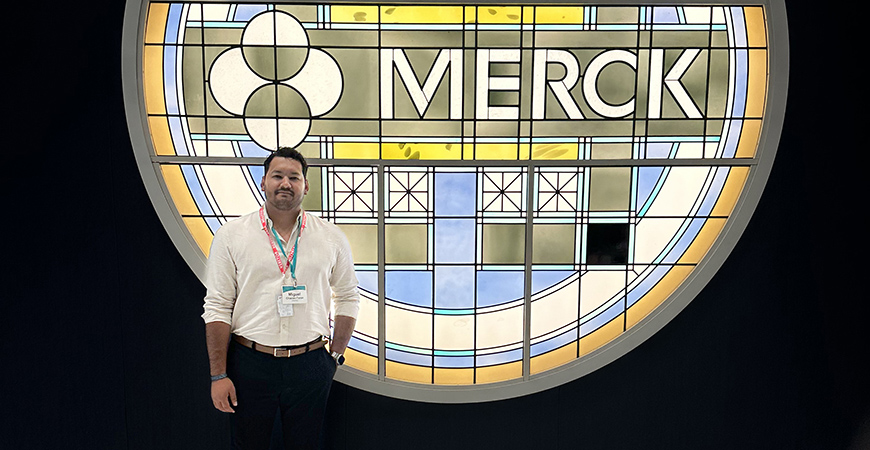 Miguel Chacón-Terán was selected as one of 16 scientists from across the country to receive the 2023 Merck Research Award for Underrepresented Chemists of Color, intended to support rising chemists of color while also recognizing their resilience in pursuit of scientific excellence.
"Being part of the selected group of awardees significantly contributes to my career by increasing my profile as a role model for the Latino community in science," said Chacón-Terán, who is from Venezuela. "The dissemination of such an achievement is significant for the UC Merced community since the Latino population is so prominent on our campus."
Chacón-Terán earned doctoral degrees in Organometallic Chemistry and Catalysis from the Universidad Simón Bolívar in Venezuela, and the University of Regensburg in Germany.
Now, he is a postdoctoral researcher in Professor Michael Findlater's laboratory group in the Department of Chemistry and Biochemistry at UC Merced. He received the award for his research exploring the structural diversity and stability of low-valent iron complexes to fully unlock the potential of iron catalysis. Bench-stable iron complexes would make iron catalysis more practical and versatile for a variety of chemical applications in industry and academia.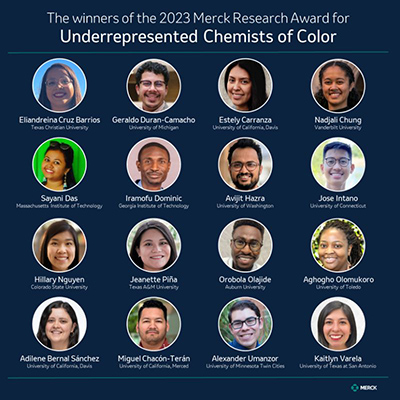 The award program, launched in 2021 by Merck, provides career development and networking opportunities throughout the year and matches awardees with mentors at Merck. Recipients must also demonstrate a clear vision for how the award would impact their career and enable them to give back to their community to help fellow underrepresented individuals, an appreciation for how the program would help them despite challenges they faced as a person of color and their potential to become research pioneers and scientific innovators.
Chacón-Terán is already embracing the promise of the award. In summer 2022, he served as a mentor for the campus's Competitive Edge Summer Bridge program, where he assisted underrepresented graduate students attending UC Merced in the fall.
"Getting involved with a program that helps incoming doctoral students transition into their graduate studies provided me with the opportunity to improve my mentoring and teaching skills," he said. "However, the satisfaction that came with knowing that I was part of this initial — and highly important — step for future researchers to clarify their own career path was both my major motivation and my greatest reward."
Chacón-Terán and the rest of the cohort were presented with their awards at Merck's headquarters in Rahway, NJ, in early September.
"It feels really good to have one of the biggest chemistry companies in the world reward your ideas. It means that you are pushing in the right direction," he said. "I'm thankful to my former PIs, professors Rafael Rodriguez, Vanessa Landaeta, Robert Wolf and Karol Grela, and to Professor Michael Findlater for his unconditional support!"