Aneelman Brar wants to reduce carbon dioxide in the atmosphere.
The Chemistry and Chemical Biology Ph.D. student's three-minute talk entitled "From Pollutant to Fuel and New Products: Recycling Carbon Dioxide" earned her bragging rights as UC Merced's Grad Slam champion and a $5,000 prize, plus the opportunity to represent the campus at the UC systemwide finals on May 5.
"It's really a great moment. I have been waiting for such a competition where I could represent myself and my research group and now, I get a chance to represent my university, so that makes me proud," said Brar, who is from India.
Second place and $2,000 was awarded to Quantitative and Systems Biology graduate student Ambarish Varadan and third place and $1,000 went to Materials and Biomaterials Science graduate student Jeremiah Reagan.
"Since childhood, I was curious about the different things happening around me," she said. "Bubbles coming out of a cold drink bottle or how we use surfactants to clean our clothes. I was always wondering, 'How is this happening and why was this happening?' That made me want to learn more about chemistry. I feel like chemistry in general is connected to all the fields from biology to math. It's a central criterion for everything happening around us, and that was my motivation."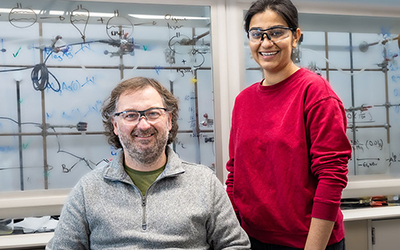 Brar's research focuses on the synthesis of pincer based organometallic complexes and employing them as a catalyst for various organic transformations and for the direct reduction of captured carbon dioxide into renewable fuels and chemicals.
"Recent research shows that 79% of greenhouse emissions causing global warming is because of one single pollutant, which is carbon dioxide," she said in her talk, and emphasized this problem needs to be addressed because it's causing temperatures to rise and influencing the Earth's atmosphere. "The current methods are old and cost intensive. In the Findlater group, I am creating a circular process in which carbon dioxide is captured and converted into valuable products and fuels."
Brar earned her master's and bachelor's degrees in India and then came to the United States to pursue her doctorate degree because of the cutting-edge technology available.
She began her Ph.D. work with Professor Michael Findlater at Texas Tech University. When Findlater took a faculty position at UC Merced in July 2021, Brar joined him. She will defend her thesis dissertation two days prior to her Grad Slam finals appearance and will be graduating later this month.
"I'm a little bit nervous and excited at the same time," Brar said about the competition. "I am proud that I will be representing UC Merced. I'll give it my best and leave it to the judges. And hope I'll bring back the trophy."
Everyone is invited to watch the UC Grad Slam finals via livestream beginning at 10:30 a.m. Friday, May 5, and encouraged to cast a vote for Aneelman Brar for the People's Choice Award immediately following the last participant's talk.