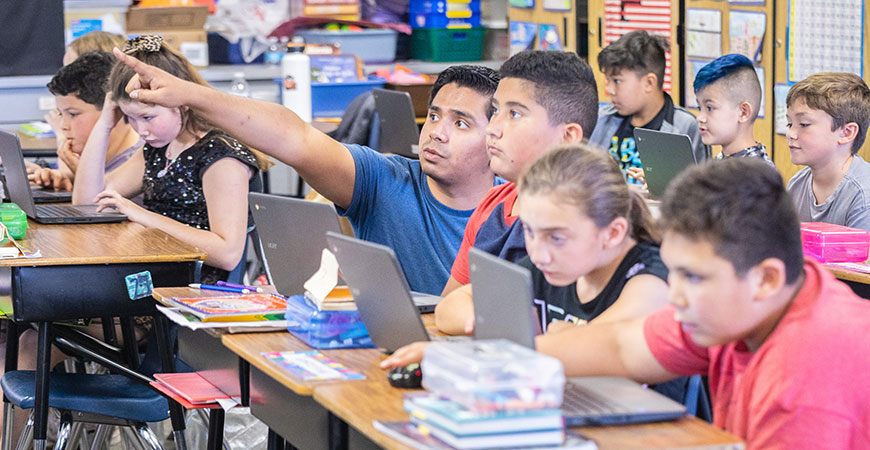 Students at UC Merced and those who might someday become Bobcats are the focus of FARMERS, Professor Rudy M. Ortiz's training program funded again for $1 million by the U.S. Department of Agriculture (USDA).
FARMERS stands for Facilitating Agriculture-Related Mentoring for Emerging Research Scholars, and the goal is to train 15 undergraduate and 10 graduate students a year over the next four years to conduct in-depth research into agriculture-related subjects.
"Agriculture as a subject has many layers. It's not all about being a farmer," Ortiz said. "There are many opportunities for other kinds of research, including economics, engineering, math, sustainability and more. There will be opportunities that students might not otherwise have explored."
For example, though Ortiz is a physiologist with the Department of Molecular and Cell Biology, much of his research revolves around nutrition.
The USDA's Education Collaborative program for Hispanic-Serving Institutions (HSI) has awarded Ortiz and his lab this competitive and prestigious grant at this funding level twice, as well as a third, smaller one. It's especially relevant in the San Joaquin Valley, of course, because not only is this one of the nation's most disadvantaged regions, it's also one of the most diverse areas of California, and one of the most agriculturally rich.
Besides professional development and research training, FARMERS offers students opportunities for internships, networking and outreach to younger students by helping develop curriculum that will prepare children for college and studies in the science, technology, engineering and math (STEM) fields.
"We're also expanding the number and type of research training opportunities to the diverse population of students supported by UC Merced and our partner HSIs, CSU Stanislaus and UC Santa Cruz and others," Ortiz said.
Melisa Quintana, an Earth systems sciences major who expects to graduate in the spring, is a FARMERS participant. She's interested in soil health in agroecological systems, nutrient cycling in natural ecosystems, conservation and regeneration of biodiversity, land defense, food sovereignty, social justice and climate resiliency. She is researching how soil health amendments, specifically the addition of biochar and compost, can improve soil quality and increase carbon sequestration in conventional systems and how soil health practices reduce greenhouse gas emissions at dairy farms.
Though she did a little bit of experimentation in grade school science classes, once she got to college, her interest grew, and she joined FARMERS, working with Professor Rebecca Ryals, an affiliated faculty member.
"I was amazed that you could research topics like the spatial distribution of species over time, changes in species abundance and diversity, soil health practices, integrating sustainable agriculture practices and more," she said. "After this exposure to different types of research and researchers, I was hooked."
As a first-generation Guatemalan American, Quintana said the research she has learned about brought her to some surprising conclusions.
"I hadn't known that most of the soil health amendment practices we're integrating to reduce greenhouse gas emissions and increase carbon sequestration stem from Indigenous knowledge and peasant farming practices," she said. "It was even more surprising when I was talking to my mother, a Guatemalan Campesina, about my work and she mentioned that she has implemented the farming methods I'm learning about on our family's land growing up. I didn't realize how connected my family and I are to the land."
FARMERS is not only for Hispanic students, even though it is part of the HSI program. Over the seven years it has been funded, FARMERS has helped more than 50 students go on to graduate programs and ag-related careers. All FARMERS students have graduated, and Ortiz said he plans that the next group of participants will maintain that perfect record.
The students will work on peer-reviewed publications, attend conferences and meetings and be able to join a summer ag institute next year. They will also have opportunities to meet and discuss career opportunities with USDA representatives at meetings and on campus.
"It will be good for students to learn more about the USDA, the way the agency interacts with society and the kinds of career possibilities it offers," Ortiz said.
Students who are interested in applying can follow along on the FARMERS website, the Center of Information Technology Research in the Interest of Society (CITRIS) website or watch for emails and other postings around campus.