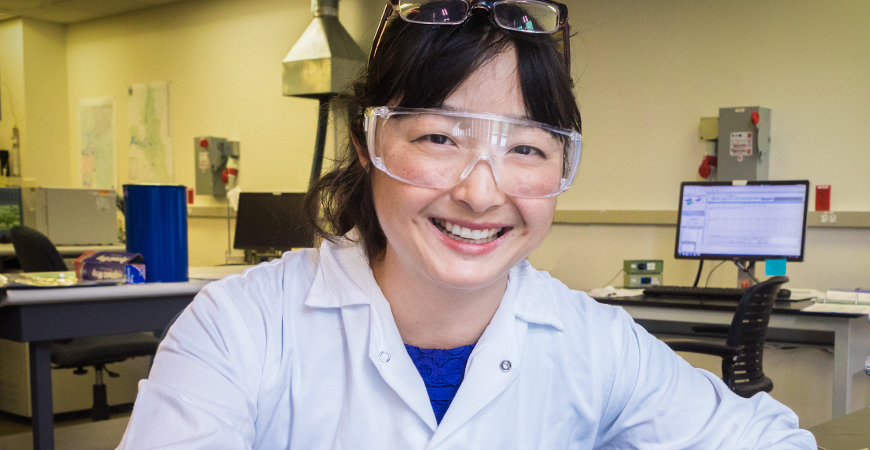 Professor Sora Kim has been named one of this year's Emerging Scholars by Diverse: Issues in Higher Education magazine.
Only 15 researchers, out of hundreds of nominees, have been selected.
Each scholar is selected based on their research, educational background, publishing record, teaching record, competitiveness and uniqueness of field of study. Each leader has demonstrated perseverance, tenacity and has made a broad impact on the academy, the magazine said.
"Even as a junior scholar, Sora has made tremendous contributions in our department and on our campus," said Professor Teamrat Ghezzehei, chair of the Department of Life and Environmental Sciences. "It was a pleasure to be able to nominate her for this honor, as she and the research group she built embody the true ideals of education and science that serve the public."
Kim studies paleoecology, climate change, environmental reconstruction and stable isotope biogeochemistry. Some of her latest research involves tracking how sharks have responded to climate change over the past 50 million years using data gathered by analyzing the isotopes in modern and fossilized shark teeth.
She said she is honored to be recognized by Diverse, because diversity has always been a priority for her, especially in her lab.
"Getting minoritized students involved in research is a way to make science accessible to them," she said. "We need diversity in the science, technology, engineering and math fields because it brings different perspectives to our research."
Kim imbues her science courses with lessons in the rules of engagement and discourse, as well as leadership, diversity and public service.
Her lab's mission statement makes her commitment clear:
"Our research group explores the interface between ecology and environment using stable isotope analysis in conjunction with other techniques. We value an inclusive and interdisciplinary approach to research both in terms of science and scientists. We support one another's scientific endeavors and strive to make positive contributions to our community."
Kim earned her Ph.D. in 2010 at UC Santa Cruz and joined UC Merced in 2018. She is a member of the School of Natural Sciences. The work she has done as a faculty member and mentor makes her a role model for others.
"Professor Kim's commitment to breaking down barriers to diversity and equity in STEM education and research is a shining example of how we must address these challenges directly through actions, as well as words," School of Natural Sciences Dean Betsy Dumont said. "Her recognition as an Emerging Scholar is well-deserved and her input will be invaluable as we continue to craft our long-range academic plan."
Diverse published its first "Emerging Scholars" edition in 2001. Diverse editors select honorees from a pool of candidates recommended by various scholars, department chairs, university public information officers and others. UC Merced has attracted the attention of Diverse before, with interim Vice Chancellor for Research and Economic Development Marjorie Zatz named one of the top 35 Women in Higher Ed in 2019.
"We are thrilled by this recognition of Professor Kim's stellar research," Zatz said, "and also of the recognition of the importance UC Merced places on diversity."