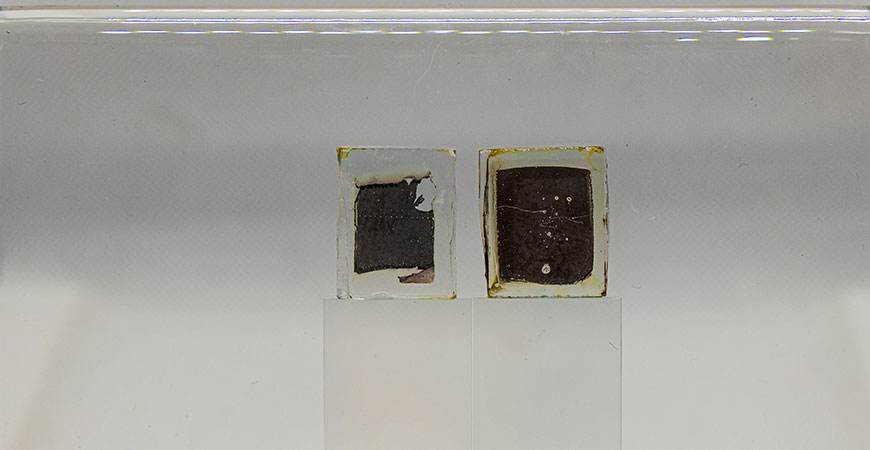 When physics graduate student William Delmas made samples of solar energy harvesting perovskite films two years ago, he had no idea that this summer, he'd be analyzing those same samples after they made a round trip to the International Space Station (ISS).
"It's really cool to see this come full circle," Delmas said.
Professor Sayantani Ghosh , Delmas'advisor, and Delmas are part of the NASA-funded Merced nAnomaterials Center for Energy and Sensing (MACES). MACES training includes internship opportunities for graduate and undergraduate students at the various NASA centers. Delmas created these samples during his internship at NASA's John H. Glenn Research Center in Cleveland, where he worked with researcher Timothy Peshek over the summer of 2019.
Ghosh's lab works with perovskites — a hybrid organic-inorganic compound with superior optoelectronic properties that allow them to perform as very high-efficiency light-harvesting active layers in solar cells. They are cheaper and easier to produce than the prevalent solar modules. Perhaps more importantly for space missions, hybrid perovskites can be designed into ultra-lightweight panels.
"One of the big challenges with traditional solar cells is that they are heavy, and NASA has been building them on Earth and then taking them into space," Ghosh said. "For long-term missions to be successful, it will be necessary to have the capacity for efficient, inexpensive and large-scale in situ fabrication, in microgravity."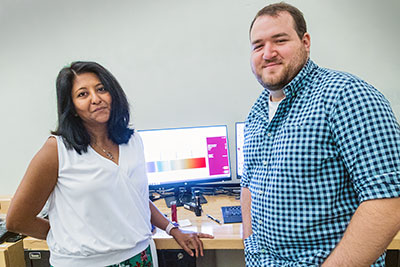 "With 1 liter of perovskite solution, we can make a football-field-sized sheet of solar absorbers in space," Delmas said. "So, if this works, we can have all the power we want in space and the ability to make more."
However, hybrid perovskites are vulnerable to moisture and oxygen, structurally degrading over time in their presence, so NASA needed to know if they would even survive a trip.
The space agency sent up Delmas' samples on the Materials International Space Station Experiment (MISSE) 13 flight. MISSE involves a series of spaceflight missions with experiments flown on the exterior of the ISS to test the performance and durability of materials and devices exposed to the space environment, including radiation.
When the materials returned to Earth, Peshek alerted Ghosh during their weekly meeting that UC Merced would receive them for analysis, and that's when she and Delmas learned about their samples' space journey.
"I'm surprised at how well the samples did," Ghosh said. "We can see a few small spots of degradation, but not at all what we were expecting."
They expected catastrophic degradation, Delmas said, but the films are still usable.
"This is really promising," he said.
Over the next couple of weeks, they will conduct microscopy and spectroscopy on the samples and characterize their performance and durability. Then the samples will go to the National Renewable Energy Laboratory for further testing and analysis.
For now, though, the samples are in Ghosh's lab.
"I am touching things that have been in space," Ghosh said. "That feels amazing."
Besides writing up a paper on their analyses, Ghosh's group will make additional hybrid perovskite films via electrospraying to return to the ISS on MISSE 16, planned to launch in February 2022. Electrospraying, a process developed at UC Merced, has the potential to work in microgravity, and Ghosh and her students hope those new samples will perform as well as the ones they are analyzing now.