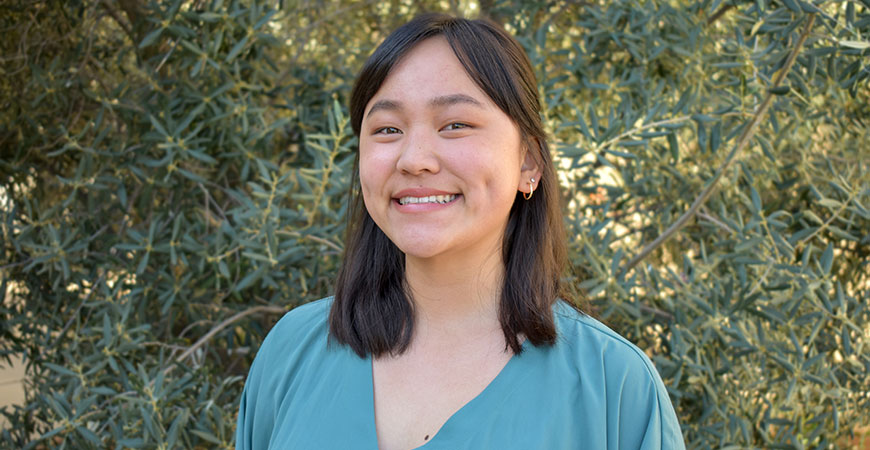 Like many young women, Calista Lum absorbed the message that she was not as capable as her male peers when it came to science, technology, engineering and math.
Teachers in her Fairfield high school engineering classes often asked if male classmates had done her work for her.
"I just assumed the boys were so much better at it than me," she said.
She wanted to pursue physics, engineering and data analysis, though, because she enjoyed them. When she enrolled at UC Merced, she joined the Merced nAnomaterials Center for Energy and Sensing (MACES). She's mentored by physics Professor Sayantani Ghosh and graduate student William Delmas, whom she credits with a great deal of her success so far.
"That was my first real research experience," Lum said. MACES is where I learned that research is much more creative and exploratory than I expected. It prepared me for the experience I am now getting."
Now all her hard work is paying off, as she is spending what should be her junior year at UC Merced working for NASA instead.
MACES is supported by a grant from NASA, and students are presented with opportunities for summer internships with the federal agency. Lum, who had never worked with nanomaterials until she joined MACES, spent this summer at the Langley Research Center in Virginia, exploring questions about nanomaterials that could shield space suits, ships and habitats from solar radiation.
Her work and productivity were so notably good this summer, the agency invited her to stay and is paying her way for the year.
"I never considered working at NASA because I never thought it was something I could attain," the Fairfield native said. "But working on space travel is mind-blowing."
Lum shares an apartment with other students at Langley, and works under a NASA scientist as they try to answer questions about what materials work best as radiation shields.
"Every time I run an experiment, I am faced with more questions," she said. "But you can't be afraid of not knowing — you just have to keep asking questions and stay open-minded."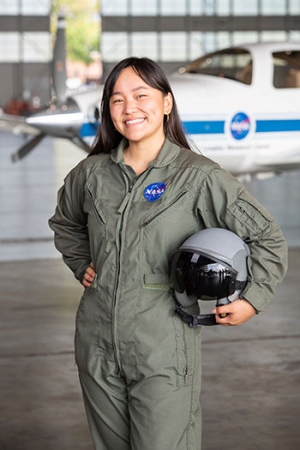 She also gets the experience of living near the nation's Capitol, touring the Smithsonian museums and other D.C. sights, and taking part in a wide variety of events at NASA, including watching a plane-drop experiment in which a full-sized plane was dropped from a giant gantry to test water-landings for space craft.
Lum, 20, has always pushed herself to excel, joining the National Honors Society and many clubs in high school, and she completed the two-year Yosemite Leadership Program at UC Merced before she left for Langley.
"It's important to keep looking for new experiences and find those that you're passionate about and can grow from," she said. "Opportunities like this, like YLP, they also let you be part of something bigger than yourself. You learn about leadership and about supporting others. I feel like a more well-rounded person now.
"I am the director of my own actions."
Lum, a physics major, has had much more exposure to women in STEM fields in her time at UC Merced and at NASA, and said it's uplifting.
"As a female scientist myself, I am of course not surprised that Calista has a very sharp intellect, and amazing capacity to focus and absorb new subjects in extremely short time spans," Ghosh said. "She is an excellent student and her success, both on campus and at Langley, is, to me, completely expected."
Still, Lum said she felt a little nervous about postponing her junior year. She returned to campus for opening day to reconnect with friends and classmates, and will return next year to pick up her studies again.
"I feel like everyone else is moving forward in school, but working here is amazing — it makes up for it," she said. "Nothing beats hands-on learning."
Her mentors have nothing but praise for Lum and excitement for her success.
"Her most enduring strength is, in my opinion, her foresight. She jumps at opportunities that will be great for her career and grabs them head-on," Ghosh said. "NASA for the summer is a long way from home, it's unfamiliar, but she did not hesitate for a second. Now she has made the decision to prolong her stay there. Not many students will recognize that stopping the clock on school for something like this is completely worth it."