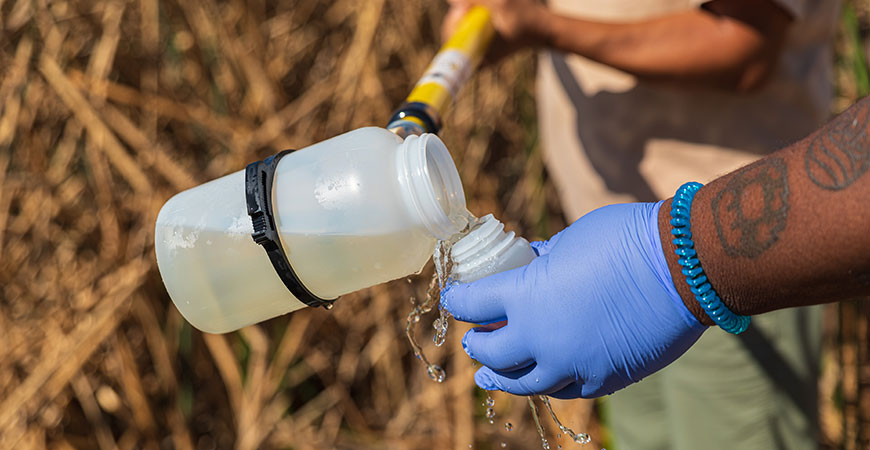 UC Merced Professor Peggy O'Day hopes to improve water quality in the California Delta by studying local wetlands.
O'Day is leading a new three-year study of Merced County wetlands that drain into the San Joaquin River and eventually the Delta.
"The Delta is sort of the heart and lungs of Northern California," said O'Day, a geochemistry professor, founding faculty member and former chair of the Department of Life and Environmental Sciences in the School of Natural Sciences.
By looking at how to manage levels of salt, mercury and nutrients heading into the San Joaquin River, researchers are aiming to boost water quality and reduce impacts on fish and other aquatic life in the Sacramento-San Joaquin River Delta. The Delta forms where the Sacramento and San Joaquin rivers meet in the Central Valley.
The project will examine wetlands — about 40 miles southwest of UC Merced's campus — that drain into the San Joaquin River.
"There has not been a lot of work on tributaries to the San Joaquin River," O'Day said. "It's been really understudied with respect to other Delta tributaries."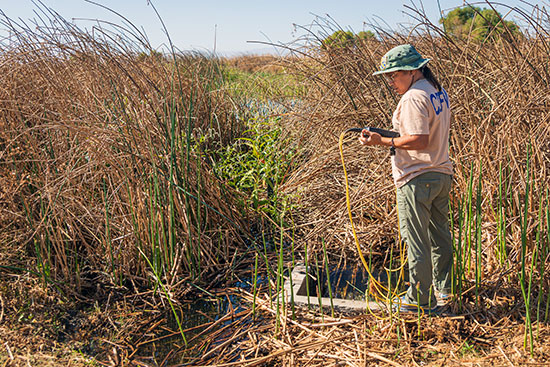 Research under way
The San Joaquin River basin supplies about a third of the Delta's incoming water. It's known for being high in salt due to agriculture runoff and for having wetlands, which hold salt when they dry out.
UC Merced's study will take place at the Grassland Ecological Area, which includes seasonal ponds in the Los Banos Wildlife Area (state-protected wetlands) and the San Luis National Wildlife Refuge (federal-protected wetlands). This area, which spans thousands of acres just north of Los Banos, also includes land owned by 160 private duck clubs.
O'Day and her collaborators met with water managers earlier this summer and plan to conduct some initial water sampling in mid-August. UC Merced graduate student Danielle Jones is scheduled to conduct weekly water samples during September and October before they taper off to monthly samples during the winter, and will be analyzing the samples. Stefanie Helmrich, another UC Merced grad student, will apply her modeling work to the project as well.
"I'm sampling water from eight different areas around the Delta to test for various trace metals, including mercury, nutrients and amounts of dissolved carbon," said Jones, a first-year doctoral candidate from Albany. "This work will be a part of my dissertation. I love the field and lab work, and I am interested to see what the tests reveal."
Researchers will use an existing water-quality-monitoring network in addition to setting up new monitoring stations in the coming weeks. They will be paying close attention to the seasonal ponds that are filled in August and September and drained in March and April.
The team hopes to take advantage of that controlled flooding and draining. For example, when the water is drawn down, researchers will look at what's leaving and headed into the Delta.
"It hasn't really been studied — what's coming from these ponds into the San Joaquin River," she said.
The goal is to get a handle on the amount of salt, mercury and nutrients that can cause issues. If there's too much nitrogen and phosphorus, for instance, it can stimulate algae blooms and that creates problems for fish and other aquatic life.
As for mercury, eating fish with high levels of methylmercury, its most toxic form, is the main pathway of human exposure to mercury.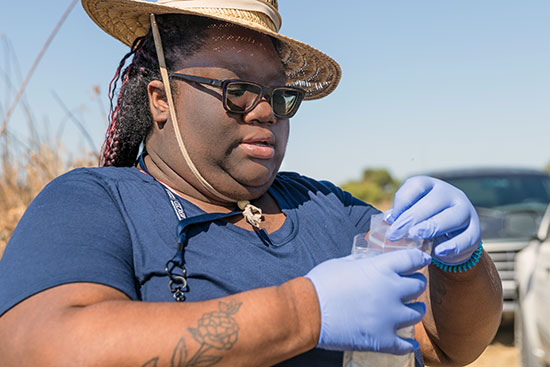 A team effort
Using data they collect, researchers will make recommendations to water managers on how to best oversee these seasonal ponds that affect the Delta.
"Our goal is to not just focus on one thing but look at all the factors that would affect water quality," O'Day said.
The $863,150 study is funded by the Delta Science Program, which is part of the Delta Stewardship Council. The council was created by state legislation to protect and restore the Delta ecosystem and it funds research related to managing its waterways. After spending a couple months working on the contract, the project officially began at the end of June and concludes in April 2022.
Two other UC Merced professors, Marc Beutel and Stephen Hart, are part of the team, along with Nigel Quinn and Peter Nico from the Lawrence Berkeley National Laboratory. Quinn also has a research affiliation with UC Merced.
The team is receiving support from Liying Zhao, director of the UC Merced Environmental Analytical Laboratory, along with state officials from the Department of Fish and Wildlife and Department of Water Resources.
"This project is intended to be applied — to be useful to water managers and the state," O'Day said.