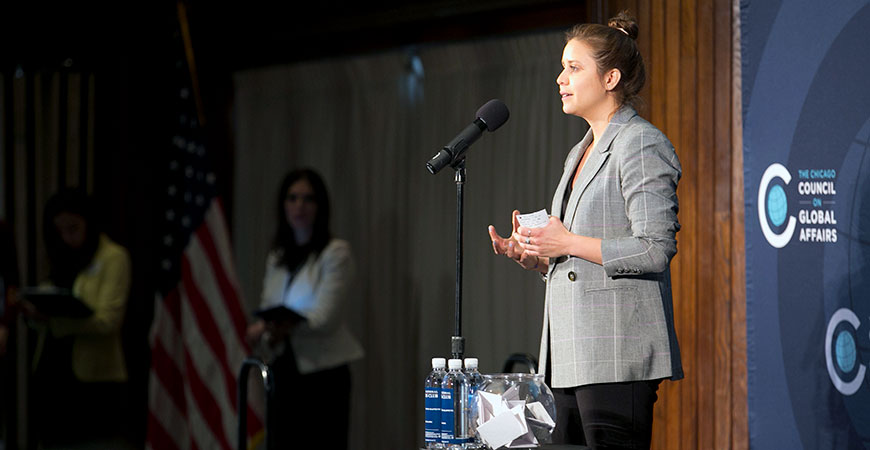 Graduate student Vicky Espinoza shared the plight of some San Joaquin Valley families with a wide audience this spring in her role as a Next Generation delegate to this year's Chicago Council on Global Affairs Global Food Security Symposium, entitled "From Scarcity to Security: Managing Water for a Nutritious Food Future."
The second-year Environmental Systems graduate student under Professor Joshua Viers was one of 22 chosen by the Chicago Council on Global Affairs from more than 600 applicants from all over the world to participate in the meeting in Washington, D.C.
"My research focuses on addressing water scarcity, food security and environmental inequity issues, and the San Joaquin Valley is in the heart of it," Espinoza said. "My story is about addressing the environmental issues and inequity present in my backyard through my research."
Espinoza, from Los Angeles, completed her master's degree in Environmental Engineering at the University of Southern California before joining Viers' lab. She said she was excited to share her research and be a part of the conversation on global water scarcity and food security among policy leaders, researchers and entrepreneurs from all around the globe at the symposium.
"Food and water issues persist all over the world," she said. "The San Joaquin Valley is an example of the ways these issues carry socioeconomic impacts and affect more than 500 underrepresented communities, right here at home."
She shared the story of her educational journey and spoke about the future of her work in the Valley. Espinoza is researching alternative pathways for sustaining natural resources and the agricultural economy while minimizing impacts to disadvantaged communities.
These issues are now acute as Valley communities grapple with diminishing groundwater supplies, comply with California's Sustainable Groundwater Management Act and find common ground for alternative land uses.
"Many of these communities are already vulnerable," she said. "The agricultural laborers who grow the food we eat are unable to afford the food they help produce. Potential land retirement could reduce employment and economic revenue, increase air pollution and bring many other detrimental issues to these communities."
Through her work — which includes elements of spatial and economic modeling — Espinoza is trying to offer a blueprint to strategically determine where to retire less-productive land and suggest alternative land uses that will maximize benefits to the economy, environment, farmers and underrepresented communities.
"I hope the insights developed through my research will inform water management and policy, while resulting in more equitable solutions for disadvantaged communities in the Valley and throughout California," she said.
Not only did Espinoza represent UC Merced at the conference in Washington, D.C., but she also traveled to Sacramento to visit with local representatives and discuss her research.
"Vicky is very emblematic of the students we attract to UC Merced. She is skilled, passionate and very motivated," Viers said.
"She is really pushing the envelope on how to integrate new advances in technology —such as satellite remote sensing, informatics and machine learning — to help solve problems in our region," said Viers, who also serves as the campus director of the Center for Information Technology Research in the Interest of Society (CITRIS) and co-director of UC Water.
He foresees more research in the emerging ag-food-tech sector happening at UC Merced.
"The timing is ripe for new insights into the food-energy-water nexus, and advances pioneered by our students and faculty will help not only the region but our planet," Viers said.