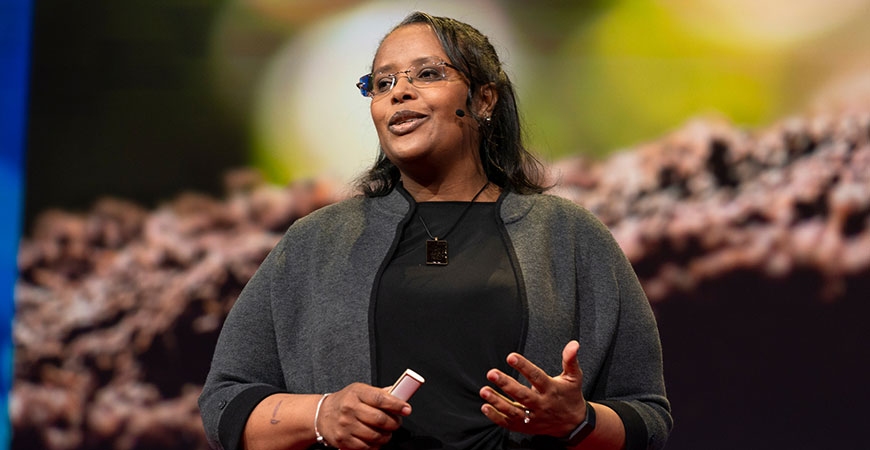 Soil biogeochemistry Professor Asmeret Asefaw Berhe has been named the Ted and Jan Falasco Chair in Earth Sciences and Geology.
"The Falasco family is engaged in construction and development, so they have an intimate connection with and an understanding of the earth beneath our feet," Berhe said. "Not only are they generous with their hard-earned resources, they are investing in a worthy cause for the Valley. They appreciate how invested we all should be in the land and the Earth."
In her Soil Biogeochemistry Lab, Berhe and the six graduate students, two postdoctoral researchers, an international visiting student and undergraduates she mentors study the ways soil regulates the composition of the Earth's atmosphere by controlling the flow of greenhouse gases between land and the atmosphere. They focus most of their work on improving understanding of the amount, nature, stability and stabilization mechanisms of organic matter in the soil system.
"The funds will allow us to engage in timely research in soil science, fund some of the important outreach and service activities that our lab conducts and allow us to think big on expanding our reach. I am very grateful that I will be able to support more researchers to reach our goals," she said.
The chair provides money over the next five years any uses that benefit the Earth sciences.
"We're continuing to build our research capacity, serve the local community through our research, education, and outreach, and improve on recruitment, retention and success of our students," Berhe said. "My goal is to invest this award in a way that will honor the family and maximize the local impact of the gift."
The late Ted Falasaco was a UC Merced Foundation Board of Trustees member. He was born in Los Banos and graduated from Stanford University in 1944. After serving with the U.S. Army Corps of Engineers, he returned to Los Banos and became a general and engineering contractor. He owned Los Banos Gravel Group and controlling interest in Central Valley Concrete and Central Valley Trucking in Merced. His various construction, contracting, and development companies made him one of the major employers in Merced County.
Jan Falasco is a retired teacher who also has an avid interest in geology and Earth sciences. The couple were married for more than 50 years and have two daughters. The family has long supported higher education, community service and civic leadership, and contributed an endowed chair to Stanford University, as well.
"The Falasco family's lasting commitment to research in Earth sciences and geology is an investment in all of our futures," School of Natural Sciences Dean Betsy Dumont said. "Professor Berhe's research program embodies the spirit of inquiry and scientific rigor that is needed to understand, and hopefully manage, the complexities of Earth's climate."
Berhe is a member of the Department of Life and Environmental Sciences in the School of Natural Sciences. She recently delivered a TEDTalk on soil at the annual TED conference. She is the recipient of the Randolph W. "Bill" and Cecile T. Bromery Award from the Geological Society of America this year; was honored as a New Voice in Science by the National Academies of Science, Engineering, and Medicine, a Presidential Award for Excellence in Science, Mathematics and Engineering Mentoring from the Earth Science Women's Network and was won the Woman we Admire award from the UC Merced Chancellor's Advisory Committee on the Status of Women in 2018; was named an Outstanding Women Faculty Leader at UC Merced in 2016; won a National Science Foundation CAREER award and the Young Investigator Award from Sigma Xi in 2014; and won a Hellman Family Foundation Award in 2011.
The Falascos established this chair in 2002, before the campus even opened, and Vice Chancellor for Research and Economic Development Samuel J. Traina , a renowned soil scientist and founding faculty member, is the previous chairholder.
"Sam has been one of the most supportive colleagues I have had since I arrived at UC Merced. He is an incredibly well-respected scientist and educator in our field," Berhe said. "Following in his footsteps is a huge honor."